Mobile Access
Access your workspaces from anywhere en route
In BSCW the mobile user may easily access all content stored in the system – folders, documents, appointments etc. The mobile portal provides access to various data areas of the system and includes a search feature. The user interface for mobile access has been developed to support advanced state-of-the-art smartphones (including iPhone and Android).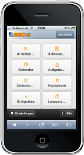 Apart from navigation in workspaces, the mobile user interface also includes additional details on various objects: a details view reveals meta data of objects and allows to edit details. Users may even add content, invite users to shared workspaces or contact people from within their personal address book while being on the road. All information stored within your shared workspace is just a fingertip away – and accessible wherever you are.
Do you have further questions? Need more details?
Please contact us
!