More Features
Additional BSCW features

Document preview and content view of folders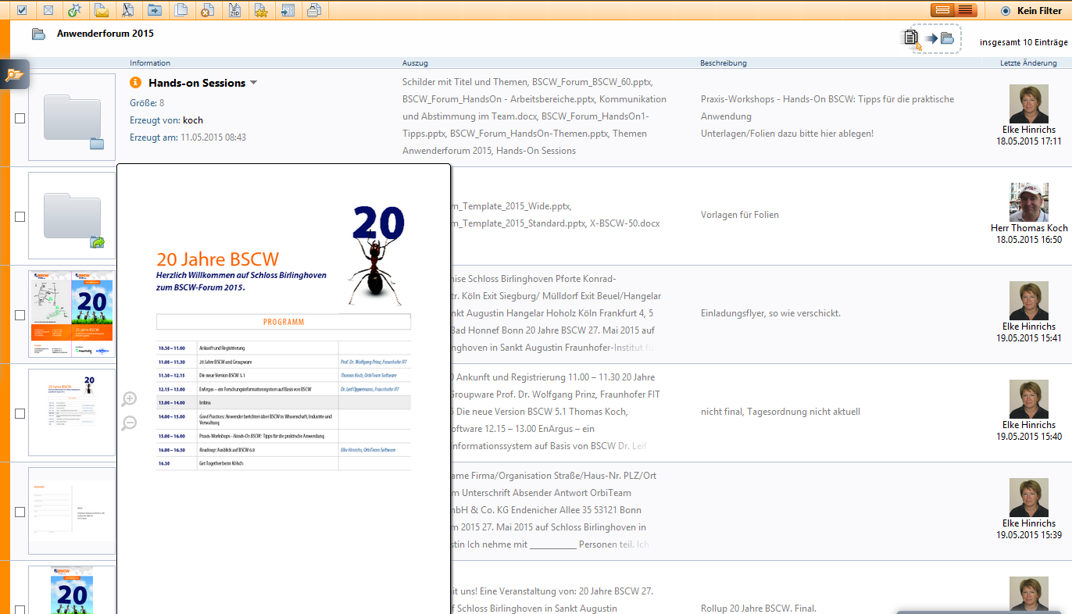 BSCW offers a standard details view on folders as well as a content view which offers more information on the content of an object entry, e.g., for documents a preview and abstract, for contacts and user objects a photograph and for folders the names of the objects contained. BSCW displays a preview of the document, which you may also enlarge - just position your cursor over the object type icon of a document in a folder listing!
Communities
Communities offer self-organized platforms for users with similar interests. In BSCW a community is a (possibly very large) group of users with identical access rights. Each community has an associated community workspace and may have its own admission policy, being open, closed or hidden. Communities may also be used as shared email distribution lists. This feature not only provides intuitive handling of communities at the user interface, but also enables workspace access for very large user groups without sacrificing performance.

RSS Feeds
BSCW also allows the sharing of RSS feeds within a shared workspace. RSS feeds provide abstracts of frequently updated web information (e.g. news, blogs) in a standardized format. In BSCW, RSS feed objects are special folders that store the latest ab­stracts of an RSS feed as RSS articles.
PDF Export
A screen list of container objects, which are objects that contain other objects, can be exported in PDF format for printing. This might include folders, discussions, blogs and con­tact lists.
Document Templates
BSCW allows users to quickly and easily re-use a wide range of templates, from existing document templates to predefined workspaces. Template folders are special folders that contain templates that can be copied into other folders. Templates can be created for any BSCW object including various types of documents, surveys, circulation folders, tasks and even entire folders including the content. Templates can be copied into other folders with the Copy from Template command.
BSCW features a selection of standard document templates that allow users to directly create documents in the system. Documents can also be directly edited in the system.
Online Status and Communication Tools

BSCW features a Presence toolbar that shows which members of a workspace are online. The optional toolbar appears below the navigation bar and is automatically updated. This enables you to see at a glance which users are currently active and which can be contacted. Active users can be selected and contacted through one of the available communication tools.
An integrated configuration feature for different communication tools such as Skype, SIP or various instant messengers allows users to indicate their communications preference and how they can best be reached.