Document Management
Put an end to e-mail chaos and version conflicts
Document management with BSCW gives all members of a workgroup access to their most important documents in one place - the shared workspace. The irritating and error-prone process of sending documents back-and-forth via e-mail belongs to the past!
Users can simply place documents in shared workspaces to give access to other (authorised) employees. Version control and locking mechanisms provide an effective way to manage documents. Participating employees are kept informed about new documents and changes. This ensures that everyone involved is continuously and completely up-to-date.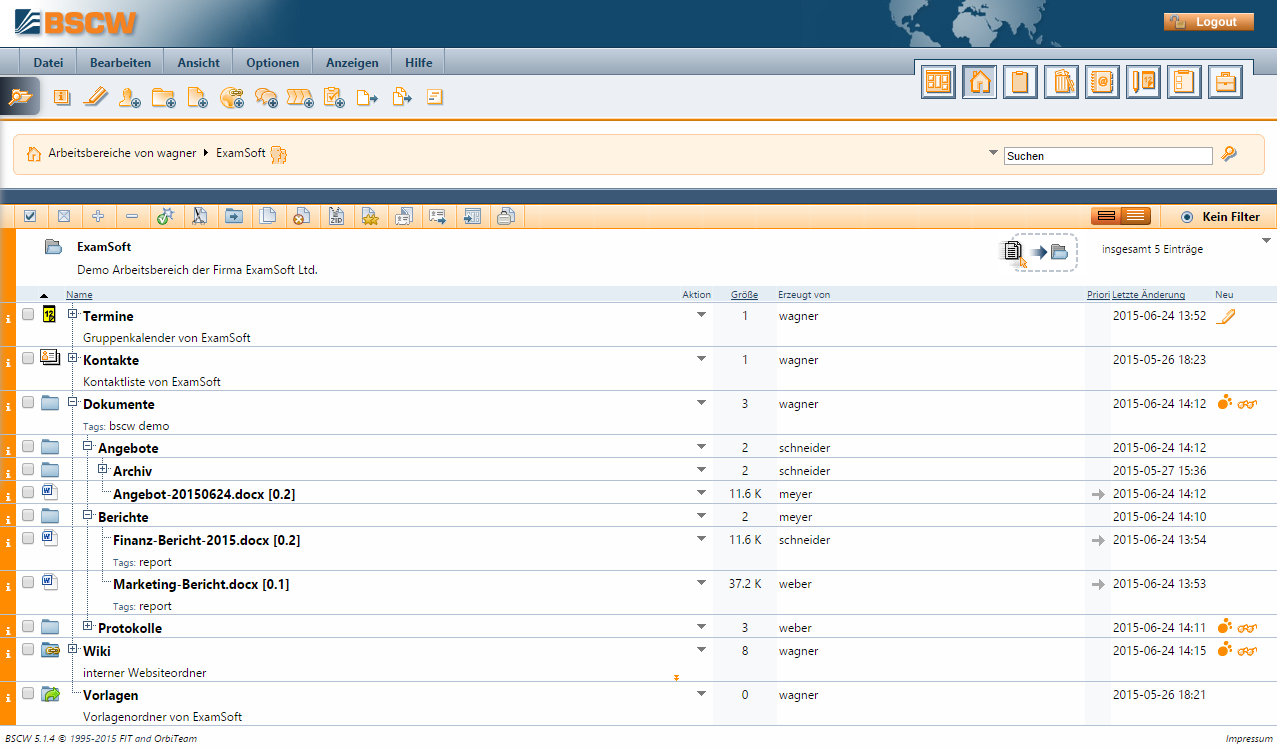 Document storage is based on conventional folder structures, so that existing document directories can also be easily imported. The navigation and storage hiearchy is enhanced with
search tools
for reliably locating content.
Document editing
only requires the simple downloading, editing and replacing of documents. As an alternative, web and office documents can be directly edited (in the browser or via help application) for even more streamlined editing cycles.
By using established web technologies, the system can also be used outside the boundaries of the organisation - users are not required to install software in order to work with BSCW. Thanks to the simple-to-use, intuitive user interface even new members can participate in projects without major obstacles.

With BSCW, document management is especially convenient due to the various options for transferring documents. For example, users can simply place documents in a workspace via drag'n'drop or directly access the workspaces using WebDAV from different applications such as the MS-Windows file explorer.
The system permits documents to be enhanced with metadata, which enables them to be classified and located according to more than just name and content. Document templates can be designed system-wide, as well as for individual workspaces, so that they are available to the participants in the right context. Follow-up tags for working on documents at a later point, as well as locking and archiving, are also integral parts of the BSCW document management system.
Do you have further questions? Need more details?
Please contact us
!