Administration
Organize your workgroups at lightning speed
BSCW features a comprehensive administration interface for maintaining the databases and user accounts. The system administrator has the option of using command lines or a graphical user interface, which provide all of the important functions needed for administering the system.
In most cases however, BSCW users manage the system on their own by inviting members and assigning their own user names and passwords. That creates little, if any, effort to administer users. However, the self-organisation function can be deactivated in order to keep the responsibility for administering user accounts in the hands of the system administrator.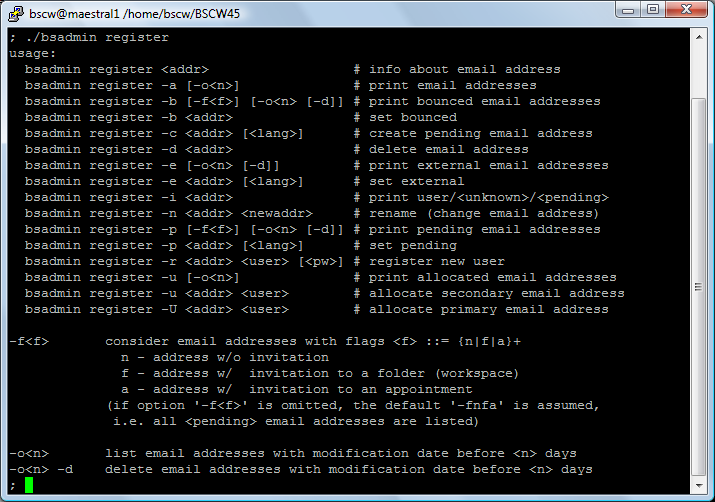 With predefined rights, users can set up new workspaces on their own. Creating content such as folders, documents and meetings remains the responsibility of the user of course, and this relieves the administer of these tasks. If a user forgets a password, he can easily reset it on his own without the intervention of the system administrator.

Otherwise, the administration of the system is limited to setting up automated processes that occur on a regular basis such as database clean-up, automated backups and installing new system updates.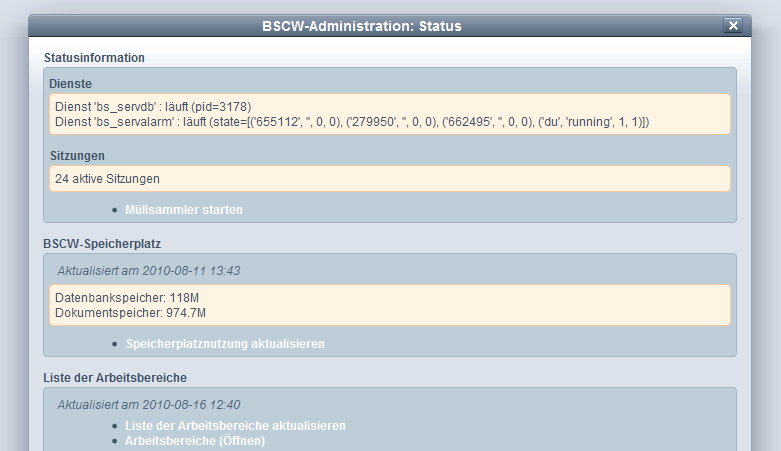 With the administration interface, the system administrator can easily create new users (using batch processes as well) and define their address data and settings, as well as temporarily block or delete user accounts. In addition, the BSCW quota system allows the administrator to restrict the disk space for individual user accounts.
Apart from the detailed user manual and list of frequently asked questions (FAQ), BSCW also features a comprehensive administrator manual that describes in detail all BSCW administration functions.

Indexing and conversion
BSCW offers system administrators "plug-in support" for conversion services, such as the automatic conversion of documents into the PDF format, which can be easily integrated and made available to the user.
Platform-independent content-based searches are carried out by means of indexing with the help of the
PyLucene
indexing software. PyLucene is a Python indexing software extension for accessing
Java Lucene
.
The integration of PyLucene into the BSCW system provides an alternative method of indexing BSCW data (and documents) and features a corresponding search function. The extension is particularly suitable for large BSCW installations and is easily installed by the administrator. The indexes are automatically administered and updated by BSCW.
Do you have further questions? Need more details?
Please contact us
!